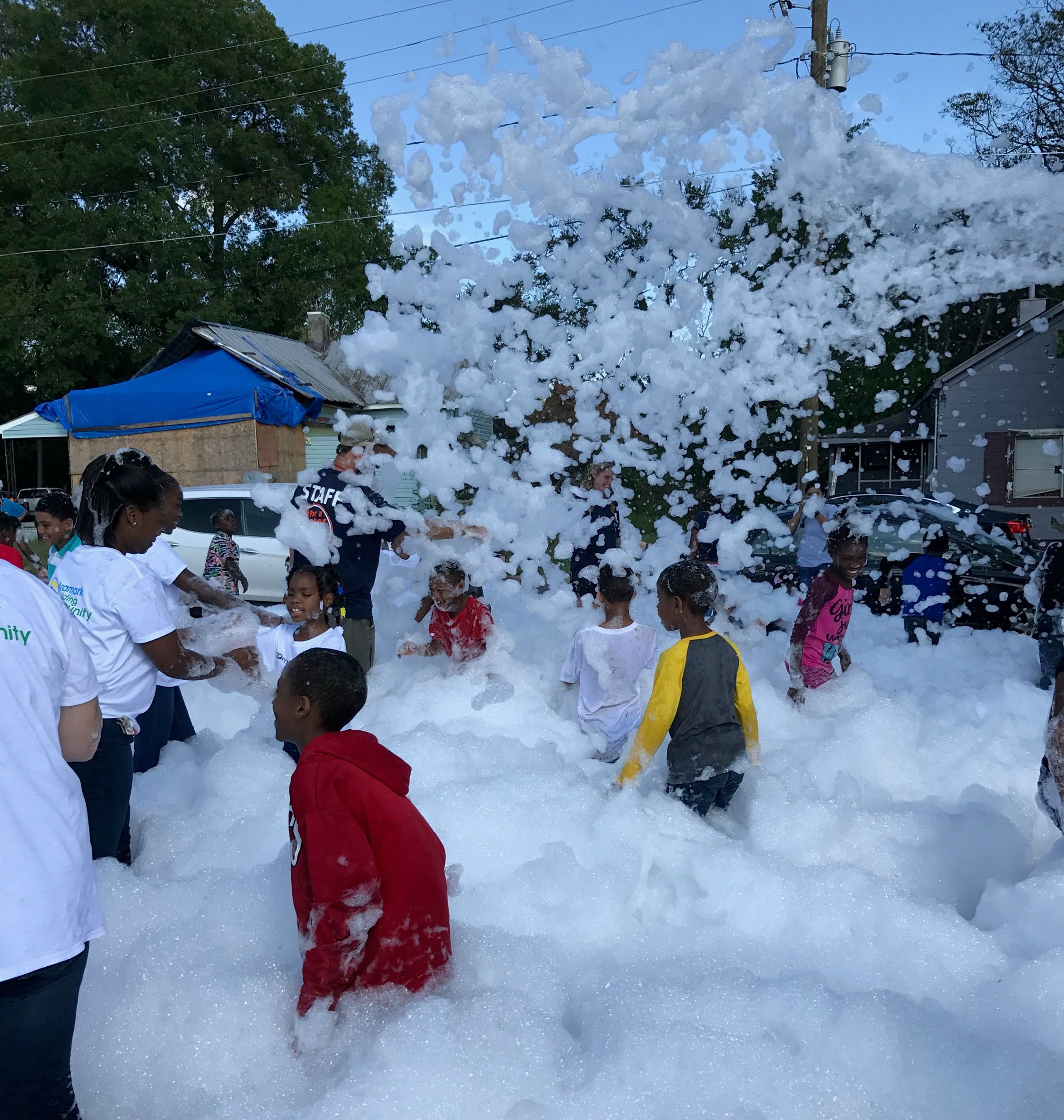 A foam party takes over a grassy area at Restoration Rome, 1400 Crane St., on Wednesday, Sept. 20, 2017, during a celebration for kids in an after-school program run through the YMCA and school and community partners. (Spencer Lahr / RN-T.com)
It was quite the after-school celebration on Wednesday afternoon, as the foam piled up on a grassy area outside the Restoration Rome building, inching above the knees of the young boys and girls as they leapt, ran and rolled through the growing white mass.
The 35 kids in the after-school program at Restoration Rome, 1400 Crane St., were thrown a celebration for their enthusiasm in urban farming, which is one of the program's activities. The kids attend Rome City Schools and are in first grade through sixth grade.
The program is run through the YMCA as part of a collaborative effort with the Rome and Floyd County schools systems and Restoration Rome, said Weaver, a Greenwood Learning Center teacher who helps run the program. The celebration, which included a live DJ, fruit smoothies and sidewalk painting, was sponsored by Aramark Corp. under the Build Community Grant.
The kids help work and establish the community garden at Restoration Rome. Weaver said they are finishing up preparations for a winter garden, which will be open to anyone in the neighborhood, fitting in with the theme of community engagement. So, as part of the celebration, there was a station set up for take-home potted plants and dropping off plants to be transplanted into the garden.
One of the main focuses of the program is on social skills and positive behavior, Weaver said. An average day starts off with an art-related education activity, which leads into a board game session where kids are taught how to resolve conflicts.
Hot meals are served as well. The food, like the summer feeding program, is provided by the Floyd County Schools nutrition department. Kids can now come to Restoration Rome on Saturdays to get meals, too.
There are four stations that children go through during the program: a computer-assisted academic area, direct social skills instruction and two periods of homework help. The program is also focused on project-based learning, like what Weaver does at the GLC, which is for students with emotional and behavioral issues. The kids are being led through the process of taking apart wooden pallets to make chairs out of them, along with making other items to sell.
"We're called to do this work," said Scott McCreless, the executive director of the YMCA of Rome and Floyd County.
The project-based learning has stimulated buy-in from the kids and gives them a sense of accomplishment in completing something, McCreless said. It also teaches them the basic hands-on skills of using a hammer and prying up boards.