Global Girls - "Be the Best You" Conference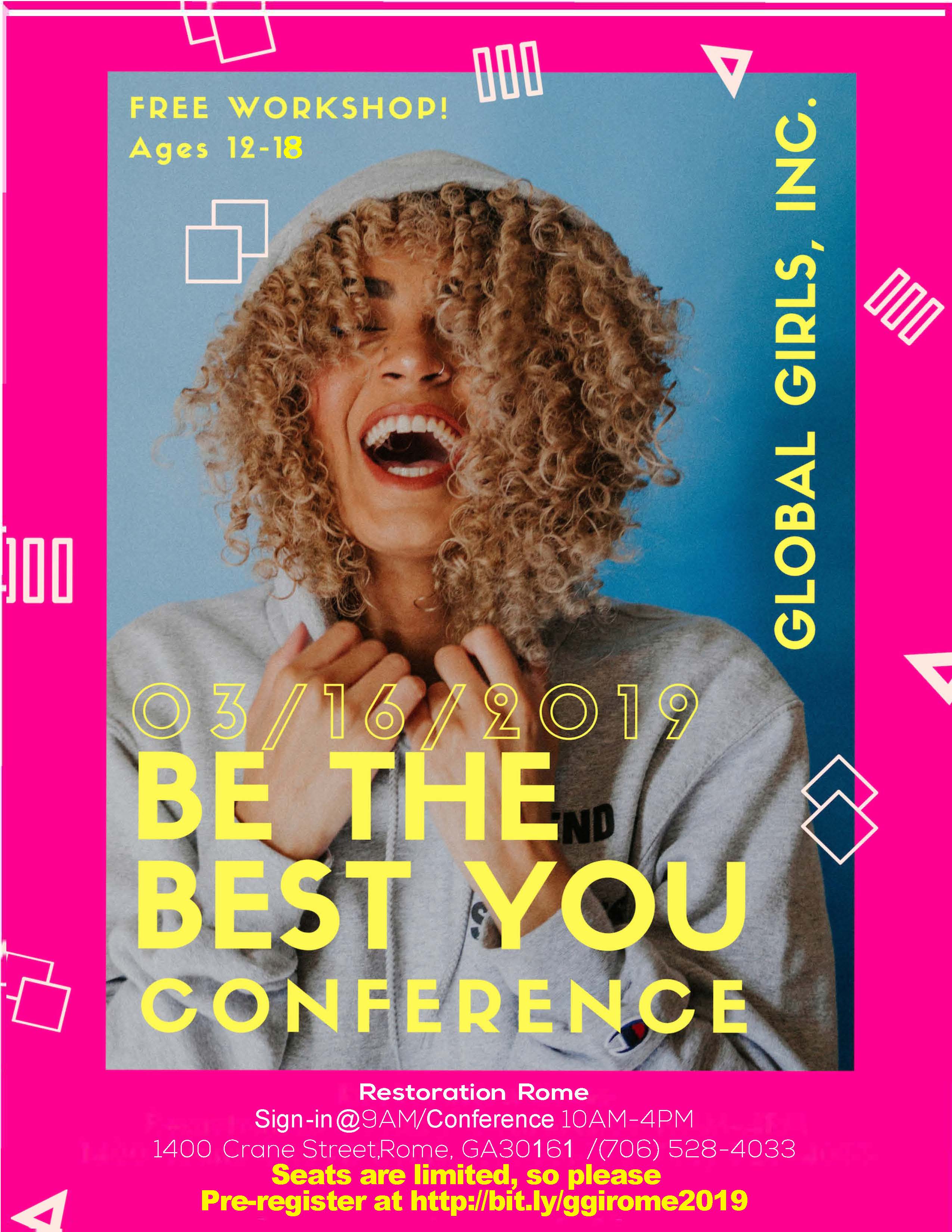 On Saturday, March 16, 2019, Restoration Rome is excited to host the Be the Best You Conference. This event is open free of charge to all young ladies (ages 12-18) and is being conducted by Global Girls Incorporated (GGI). (See their website at http://www.globalgirlsinc.com/.) GGI is a 501(c)(3) organization with a mission to empower young women through personal, professional, community, cultural development, mentoring, and entrepreneurship with a focus on the creation of jobs in our local and global communities. GGI partners with communities, civic groups, schools, churches, children's facilities and private sector businesses to make its vision, "impacting the world one girl at a time", reality via conferences, classes, and events for teen girls.
GGI has held numerous successful events throughout metro Atlanta and has requests for this conference throughout the US; however, they have chosen Rome as their next conference location! The day will be high energy and interactive with group and break-out sessions during which the following topics will be discussed: Etiquette 101, Portrayal of Women in the Media, Social Media/Cyber-Bullying, and Self-Esteem (topic detail attached). Attendees will also participate in an art session where the young ladies are instructed on making something unique to them that they will take home. There will also be a "Global Girls Give Back" session where the focus is an initiative that benefits the local area community. All of this will be intermixed with gift giveaways, photo booth opportunities, games and, of course, lunch! Every teen will leave with a swag bag, new connections with GGI girls throughout Georgia, and hopefully, an experience that will feed them spiritually and emotionally!
Seats are limited to 200, so pre-registration is requested at the following link in order to reserve a spot!